The River Road extends some 51 miles along the southern edge of Big Bend National Park. Much of it is classified as a high-clearance 4-wheel drive road. On a drive in April, 2014, there had been a lot of road damage because of heavy rains a week before. While the mud had dried, the road would have been difficult for a car because of clearance. Also, auto tires are easily punctured; off road tires are recommended. Bring water, food, and a shovel. Jumper cables and tow strap might be useful but not many people use the road.
There are campsites all along the road, but they are generally inhospitable: rough, hot and, as we found, very windy. Plus, visitors are warned over and again about the problems with auto break-ins. So don't leave anything of value in an unattended vehicle.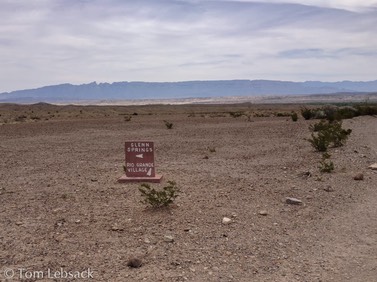 All that being said, it is a unique place and worth the trip. The eastern half is extremely desolate with little vegetation (see photo on the right). The western half runs closer to the Rio Grande and there is more plant life and good views of the Chisos Mountains. The Mariscal Mine is worth a stop to look around, and there are some excellent opportunities for early morning photography, especially along the the western side. 
Click on the thumbnails below for larger images.