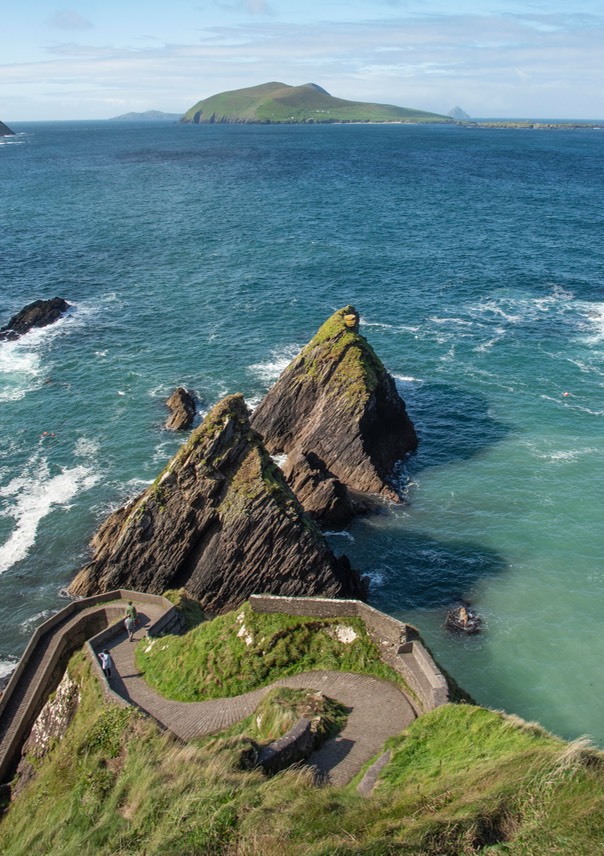 In September 2018, we spent nine days in Ireland, mostly in County Kerry in the far southwestern part of the country, along with a couple of days at our port of entry in Dublin. 
Our timing was good in that we avoided the height of the tourist season. The Ring of Kerry, especially, gets a lot of visitors. Driving on the narrow roads is challenging—and then you meet a tour bus, and then another...
The Irish countryside is beautiful and, coming from dry, parched Texas, the green scenery and cool temperatures were a welcome change. 
Click the drop-down menus above to see our photos.
Tom & Linda
Click here to see more travels to scenic places.
Click on the map of the Iveragh and Dingle peninsulas  to enlarge.
Banner: Blasket Islands and Dunquin, Dingle Peninsula
Above: Road down to Dunquin Harbor with Great Blasket Island in background
Photos on the site were taken mainly with a Nikon D810 with 28-300mm lens and Sony RX100-III. along with a few iPhone 7Plus shots