The Wheeler Geologic Area is located in southwestern Colorado near the La Garita Wilderness. The site is due east of Creede and is accessible by an 8 mile (one-way) hike or by a 14-mile moderate 4x4 road. Once arriving art the site, a 1/2-mile hike takes you to a viewpoint (photo  below right).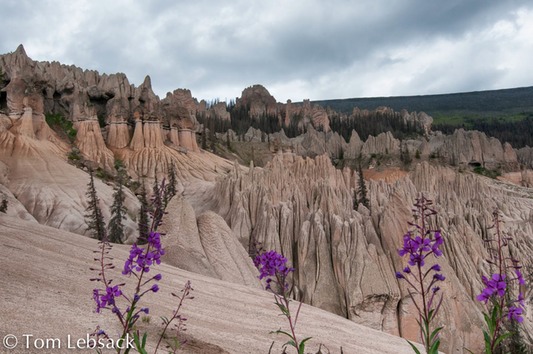 From 1908, the area was a National Monument (Colorado's first, actually), but reverted to Forest Service management in 1950. 
The spires indicative of the area were formed by erosion of volcanic tuff from the volcanism that formed the nearby San Juan mountains. 
Read more about the area here. 
These photos were taken while climbing up the center. The dead trees are predominantly Englemann Spruce that have succumbed to the spruce beetle epidemic.