We arrived at Torrey, Utah, our base for exploring the park on Tuesday October 27, and stayed three nights at Austin's Chuck Wagon Lodge. The east-west highway through the park, route 24, provides easy access to some of the most spectacular scenery, including the Castles, Capitol Dome, and Chimney Rock. There are several hikingtrails accessible from the highway and Hickman Natural Bridge is a relatively short hike. The Scenic Drive that goes south along the center of the park provides additional access to trails, including Capitol Gorge. On the east side of the park is the Notom-Bullfrog road that heads south to join the Burr Canyon Road to the town of Boulder, and also provides access to Jeep roads and trails to the Strike Valley Overlook and Muley Twist Trails.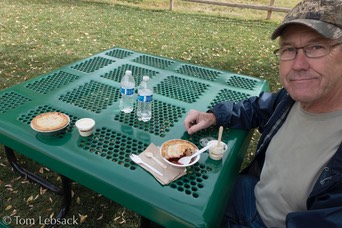 The road conditions were muddy and snowy so we did not get to the north end of the park to view the Cathedrals. 
If you go, be sure to stop at the Gifford Homestead, near highway 24 along the Scenic Drive, for some excellent homemade fruit pies.
Capitol Reef sandstone panorama at sunset
Click on the thumbnails below to see larger images or a slideshow.