We arrived in Zion National Park on Saturday, October 31, and checked into the Zion Lodge for three nights. We followed this with a two night stay at the Driftwood Lodge in Springdale, just outside the park.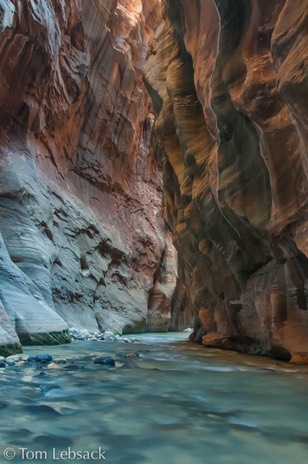 Late afteroon after our arrival we took a short hike to Emerald Pools. The next day we drove to the north end of the park and hiked the Taylor Creek trail to its end at the Double Arch Alcove. The second day was a great adventure: hiking the Narrows through Wall Street. This entailed renting the proper gear (boots, pants, poles, dry bags, etc.) and walking in water for most of the 6 miles round trip. Photography is a bit of a challenge because the canyon is dark with areas of high contrast. A tripod, high ISO, long exposures and a cable release or remote are essentials. And don't get the camera wet!
The third day we hiked up Angel's Landing, a challenging trip with its very steep, exposed trail, and spectacular views.  On the last day we attempted a hike in Kolob Canyon but were turned back by a closed road to the trailhead because of snow. 
Click on the images below for larger versions and a slide show.