I want to show some pictures of cars from a junk yard Fredericksburg, Texas, but some perspective is needed since the idea of junk car photos may seem a bit strange. If you can't wait to see them, though, skip to Part 2.
Like many of my generation, I was fascinated by cars. Don't know why, exactly, but during the late 50s and thoughout the 60s I always looked forward to the new models coming out, usually in September or October, and it always seemed that there was something new.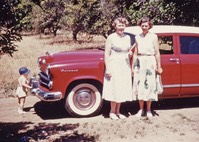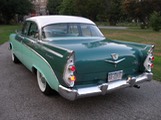 Maybe my fascination was a reflection of my father's attitude about cars. He owned a lot of them, trading every couple of years, or more often sometimes. 
One of my family's first cars was a 1941 Dodge, shown here with my older brother Lyle in 1947. Dad kept it for a long time because of family economics and the war. Then he bought a '48 DeSoto, the first car I can remember, followed by a '51 Mercury. This Ford product was followed by a red '53 Dodge Coronet sedan. The photo on the right shows the car with Mom, my little brother Steve and my aunt in California. After that we had a green '55 Ford station wagon, very practical for a family of six. It even had green tires. Apparently this second diversion to Ford products was unsuccessful because the next car was a '56 Dodge sedan. Nice, conservative.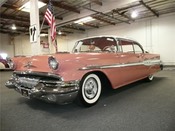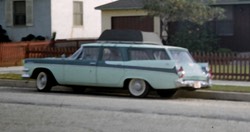 In 1957, Dad bought real sharp '57 Pontiac Chieftain two-door hardtop. It was pink like the picture, but with charcoal accents instead of white. I even had a pair of pants with the same color scheme. The car had a 4-barrel carb on a 347 cu-in V-8. It was a hot rod, when it ran. Unfortunately, it was very temperamental and was kicked out of the family the day it stalled in downtown Denver not too far from a Dodge dealer. The result was the purchase of  '57 Dodge Sierra station wagon, two-tone green, on the right. This one that lasted three years.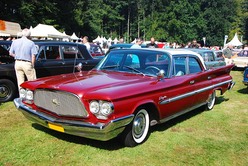 I recall vividly a trip to the Oldsmobile dealer with Dad in 1960. We went to look at an Olds 88 sedan, very sharp, and took it home. Mom was unimpressed. It was too expensive, the roof was too short, people would talk, or something. So, no Olds. Instead, he bought a 1960 Chrysler Windsor sedan, red with a white top, like the one on the right. Beautiful car. I asked why he didn't buy the top of the line New Yorker which, to me, was the best looking of the brand. I was told that it would not be good for business.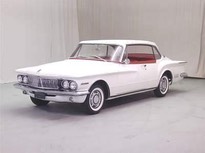 The Chrysler lasted until 1962, when I got my first car, a 1962 Dodge Lancer 4-door sedan. It was a "compact", the new genre that was all the rage. Dad liked it so much he decided to sell the Chrysler, and buy a Lancer GT 2-door hardtop for me keeping the 4-door for himself and Mom. 
I was on top of the world, having a car at 16, and a real looker at that, white with bucket seats and a red vinyl (looked like leather) interior. No hot rod, though. The slant six 225 put out 145 hp. But I thought it was great. I went off to college, and the Lancer and its red interior became somewhat famous with girls (none that I knew) as it was often borrowed by my fraternity brothers. 
After that Dad owned many more cars, almost all Chrysler products. He did have a Buick in the early '70s, though.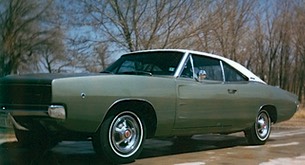 The Chrysler thing rubbed off on me, and I have owned many of their products. I kept the Lancer through high school and college and upon graduation bought a green 1968 Dodge Charger. Beautiful car. I kept this car until I had a company car. Then I met Linda, and she had a Chrysler product, a 1964 Plymouth sedan. We were meant for each other.
In between I had a 1962 MGB for a year or two, similar to the photo below. This was a sorry vehicle mechanically. But it was a hoot to drive. Like a go-cart that would go 70.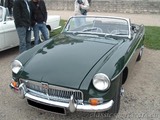 Chrysler products of the 70s suffered from major quality problems, even more than than Ford or GM, and I didn't own another until 1989.  
So with this background, the reason for the photos in the next post might be clearer.