Last fall we saw an article in the Austin newspaper about Denver's renovated Union Station. As a boy I remember Union Station well because we traveled on occasion from our home in Sterling, Colorado, to Denver on the Union Pacific's City of Denver streamliner. So on a trip to Denver in January we decided it would be fun to visit the newly restored station.
The current station was built in 1914 as an expansion to the existing Denver Union Depot. The heyday of passenger rail traffic of the 1920's-1950's gave way to air travel and the station, while still used by Amtrak and other limited passenger service, became what one might have called an underperforming asset. 
Redevelopment of the site began in 2010 and included major construction to accommodate Denver's RTD buses and light rail system, as well as Amtrak. The building was renovated keeping much of it's old character, but adding restaurants, shops, bars and a hotel, The Crawford. 
Union Station is in LoDo, lower downtown Denver, near a lot of the city's nightlife. After a late evening at a cabaret, we walked back to the station and were surprised by the large number of people in the Grand Hall. The crowds were gone when the photo below was taken the next morning.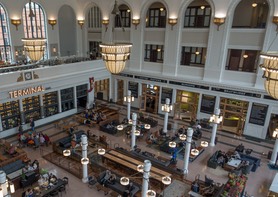 We stayed at the Crawford Hotel and were lucky enough to find that on that particular Friday night they were offering discounted rooms. 
Click here to see more photos from our short visit.
For more information about Union Station history and its redevelopment, go to the Denver Union Station Master Plan website.  
All photos except the nighttime shot above were taken with a Sony RX-100III. The nighttime shot was taken with an iPhone 4S.